Lanre, Goodnight, not Goodbye.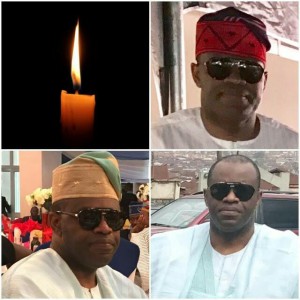 It has been more than 2 weeks that our world was interrupted by the news of your sudden departure. And since then, it's been crazy! And honestly, it is still too raw and painful but we have a solace for our souls.
Lanre, you left many voids and everyone misses you.
Family, Friends, Colleagues et. al.
And those that miss you the most are those that you loved unconditionally.
Lanre, it is goodnight and not goodbye.
Mystery
Life is indeed a mystery, measured in seconds and minutes but filled with moments. Lanre, you filled our lives with great moments.
When those you left behind talk, we talk in moments, and try to recreate memories. We ask each other do you remember, when Lanre said, or did or acted like this? And then like a bad joke, we catch ourselves speaking about you in the past, then a sudden silence envelopes us, because it is so strange.
Lanre, you know that's strange having you referenced in the past.
Yet, you are in the future — resting in the bosom of our dear God.
Life is a mystery!
We mourn in the present and look at the past for anchors yet you are in the future and excitedly urging us forward.
Home
We deal with sorrow differently in hope, this time it is different, I have helped many during their moments of sorrow and nothing prepares you for when it hits home. Although, I know the verses and the words to say, it's been a little difficult. We are not mourning without hope at all, just deeply hurt and still in pain.
You know that Lande was going to throw you a surprise 50th birthday party in Lagos. You two, were still exploring future collaboration a week before your departure so you can imagine her shock.
Lanre, your siblings, in-laws, and the entire family miss you…you played the 'middle child' role so well but be rest assured, the family will pick up where you left off with Mama.
Lanre, when I didn't get your call on my birthday (14th), it truly hit home. You had a zest for life, full of energy, and drive. You were not just a brother-in-law, you were my friend and brother. You always saw things differently and your diversity of thought was refreshing. You challenged me and in the process made me better. You had a weird sense of humor and I miss our banter.
Remember, when you referred to me as a boy of God, "BOG" because you reasoned that if Pastor Adeboye (Daddy GO) is referred to as a man of God, "MOG", then it follows that the folks in our generation shouldn't be referred as such.
I will miss your notorious quirks…
Many will miss your nicknames…that was a term of endearment. We laughed as we recall all the nicknames you gave over the years that showed the progression of relationship.
It was an honor to be your best man and will always cherish the trust and bond we shared.
Remember, when we told you about our 2nd son, 13 years ago who at birth was a splitting image of you, you didn't only ask for proofs (pictures) but flew down to visit the next week from Vienna and literally became his godfather.
Well, life is in moments and you made life your canvas by molding moments.
You loved hard…
You loved unconditionally…
You didn't know how to love partially…despite repeated counsel and warnings.
Geez, thanks! Now everyone misses you like crazy…
And all your ladies…are heartbroken!
Never late
We couldn't find words to pen our thoughts on time for your burial, forgive us.
We've been sort-of mentally absent…forgive us.
At your burial on the 17th, we had to pinch ourselves.
It was like a trance.
As we cried, others cried.
As they cried, we cried.
We were a cohort in grief, yet it was more than a cohort.
Each of us belonged to other cohorts of sorts, so the circle was more complicated.
Our pain went deep because you lived intentionally, touched many intentionally, loved unconditionally and made life memorable.
You 'are' a gem so it's gonna be a long walk back to a new normalcy without you…but the God of all comfort is with us. We shall be well!
Lanre, thank you for the memories.
Thank you for the moments.
We will move forward eventually, and be rest assured you will never be forgotten. We will get busy again with life, but be rest assured your legacy will be intact.
Lastly
We have 'only' one favor to ask…once in a while, kindly go to the departure lounge in heaven, find an angel on a mission our way, and send a message; a lil story; a joke, or better, yet a reminder.
Until when we meet to part no more, goodnight brother.
'Flo & Lande